Best RV Campgrounds of White Sands, New Mexico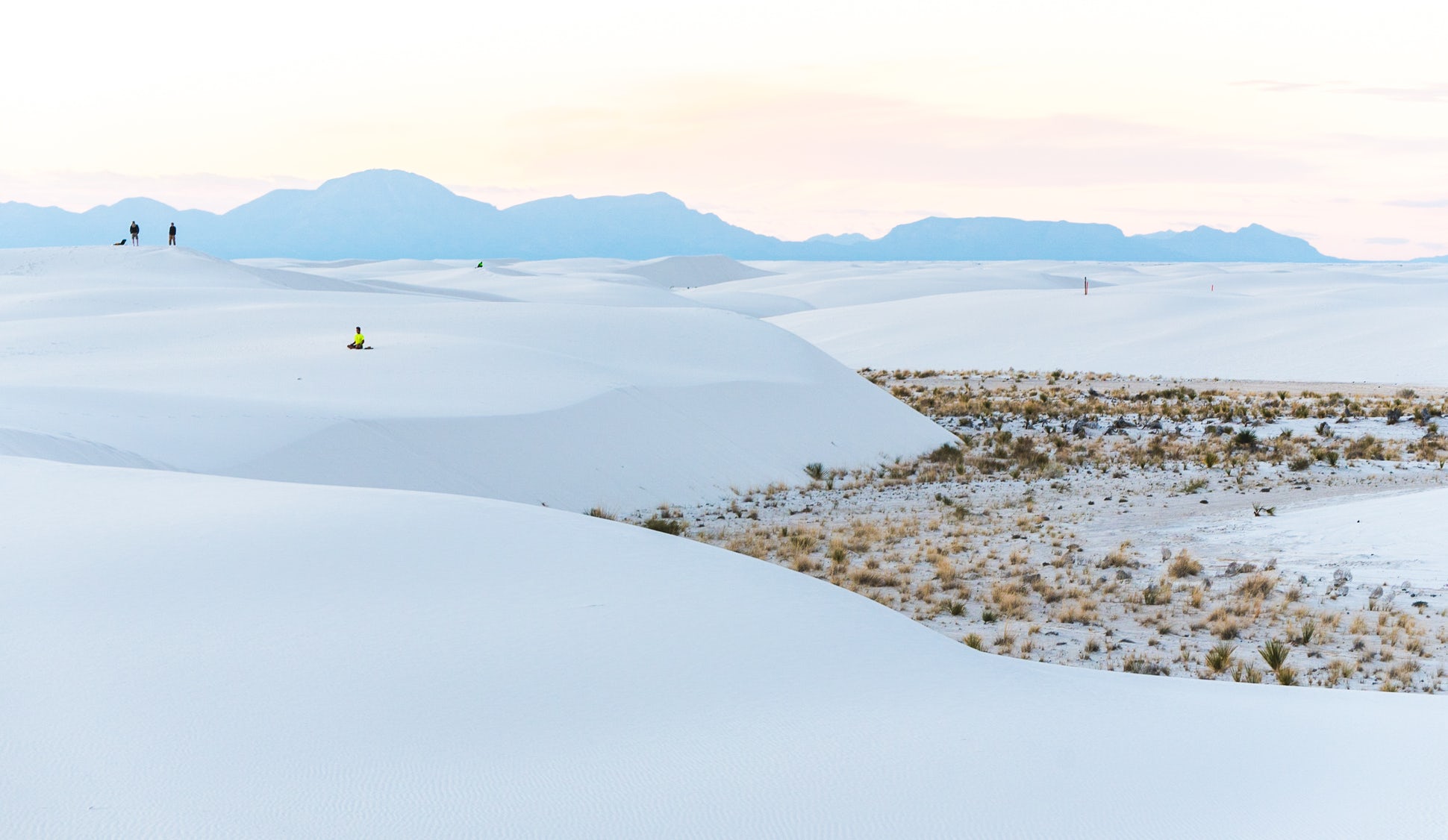 Photo Credit: White Sands National Monument by Sarah Sheehy, theOutbound.com
RV Camping in White Sands

One of the most beautiful places I've ever been to in my life was White Sands National Monument. From the moment you get across those mountains, you begin to see the promise of a land in white ahead. Sand the color of the Swiss Alps but yet as rippled as the wild Saharan dunes, with lush cacti sprouting from the dry earth like in a desert oasis - it's a mesmerizing mystery how our planet can have so much variety.
So you have an RV, you want to go to White Sands - you must've heard by now that you can't actually RV camp inside the White Sands National Monument (although you CAN do primitive backcountry camping on the dunes). Well, you're in a dilemma: what to do? You want to experience the desert, take in all of that southern New Mexican landscape, you don't want to veer too far off from the dunes, and you want a nice place to park your RV for a night...or two...or three. Danger: you may feel the urge to stay there forever; I sure did.
Basically, the closest RV campgrounds to White Sands are all actually not so close. I mean, they're by no means far, but not exactly "close." You're going to have to go for a little drive. If distance is your biggest issue, we've compiled a review of the 3 closest RV campgrounds to White Sands National Monument, in order of distance. Here goes:
At 24 miles southeast: Oliver Lee State Park
Alamogordo, NM
The vibe: Eastern Washington but with cacti...desert mesas and canyons
The Pros:
Longer trailer/RV lengths allowed: 30', 35'

Has first come first serve sites; for reserved sites, you HAVE to arrive (or call) by 4:00 p.m.

Dump station, hot showers, flush toilets
The Cons:
Bring your passport!

Whenever you're driving through the southern (I don't mean something like Utah, I mean VERY southern) United States, you should always have your passport or other national identification document with you, even if you're not crossing borders. Read more about this in the next section below.
At 39 miles southwest : Aguirre Springs National Recreational Area
Organ, NM
The vibe: something between southeastern Utah and southwestern Colorado...pointy dry peaks
The Pros:
The Cons:
Water available only at the entrance

There is a curfew!

They close the front gates at 8:00 p.m. so plan well if you want to go out for the day and come back to the campground in the evening.

Bring your passport!

Depending on which direction you're coming from, you may encounter some highways with border control checkpoints. There are permanent as well as temporary checkpoints. Even though you're not crossing any national borders, they've got checkpoints set up on highways that are 100 miles or less from the Mexican border. Be sure to carry some national identification documents with you.
At 40 miles east: Lincoln National Forest - Smokey Bear Ranger District
Alamogordo, NM
The vibe: Bambi: (yes, the Disney cartoon...think greenery and wildlife).
The Pros:
6 family campgrounds

2 group camping areas

3 of these areas are free!

2 areas (Three Rivers and Baca) located at lower elevation are open year round

Dispersed RV camping available: basically roadside camping (could be a pro depending on what you like)

The area has 50 hiking trails, majority of which are less than 3 miles long
The Cons:
RV's limited to 25' length

By now, this should go without saying, bring your passport!










Hoping you found my concise bullet-point review helpful, and I'm wishing you a great camping experience in White Sands!

-Mileta
---
---
---